enPathia system
• enPathia is an innovative adapted head mouse system that makes computer access easier for people who have reduced mobility or null mobility in their upper extremities.
• It provides a USB-connected high quality assistive technology alternative to the conventional PC mouse and keyboard, and does not require the use of hands.
• enPathia consists of a small motion sensor that can be attached with the integral band to a part of the body, often the head (frequently called a head mouse). It could be any other part with suitable mobility such as the foot or forearm. enPathia adapts itself to the way you work, not the other way round.
• It does not require line of sight of the enPathia sensor to the PC monitor.
• The user just needs to perform gentle and natural movements in order to control the computer. For example, if enPathia is worn on the head, the user can still focus on where they are typing whilst moving their head gently.
• The adapted head mouse can be used to navigate the PC, folders, files, applications, browse web sites, for typing, for computer controlled commercial switches, playing games, etc.
• The cost is low compared with many alternative assistive technologies for computer control, for people with physical disabilities, that are on the market today.
• Here is a video showing how it works:
Who is enPathia for?
• For anyone with physical disabilities who does not have enough mobility in the upper extremities to use a conventional mouse and/or keyboard.
• enPathia was developed by specialist assistive technology company Eneso in Spain, together with therapists and volunteers with a number of disability pathologies such as: tetraplegia, spina bifida, brain paralysis, multiple sclerosis. This is one of the reasons why enPathia is such a versatile and simple to learn system.
• A list of pathologies where people may benefit is provided here.
How does enPathia work?
• enPathia works on computers with the Windows or Linux operating systems. The only requisite is that the computer has a USB port.
• Turn the sensor in any direction (for example, slightly lean the head) and the cursor will move in that direction. It can move across the whole screen even with small movements.
• It is not affected by lighting conditions, what the user is wearing, etc.
• In order to left- or right-click, double click, drag, or show a virtual keyboard, just stop for a moment on any location on the screen. A menu will show up with all those options, and executing one of them is as simple as making a gentle movement.
• You can also use enPathia with one or two commercial switches.
• enPathia can be shared easily as users can create and save their own customised set-up profiles.
Buying enPathia:
The enPathia package contains:
1 enPathia movement sensor
1 enPathia USB device
1 holding band
1 software application and user manual CD
1 quick start guide

• Price: The enPathia package price in the UK is £ 265.00 (no VAT to pay) plus post & packing.

For customers in the Republic of Ireland (Eire) and elsewhere, please enquire as below.
enCore system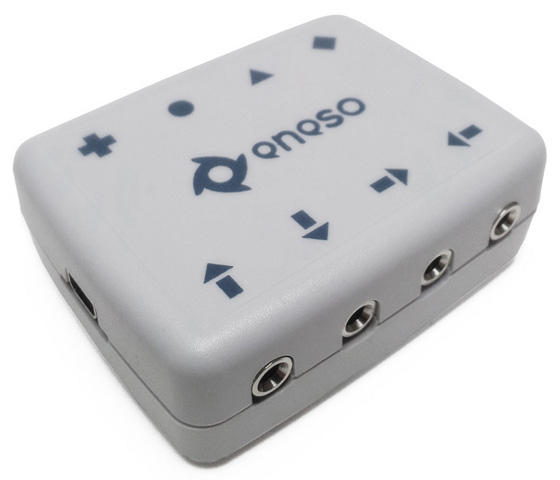 • enCore is a configurable adapter that connects up to eight switches to the computer, so that each one of them performs a mouse (move in four directions, single or double click, drag and drop) or keyboard action, enabling access to the computer using only switches.
How does enCore work?
• Connect the enCore adapter to a USB port of the computer. For each function you wish to emulate, connect a switch to one of the inputs of the adapter. Four of its inputs are configurable. By default, the device emulates a mouse.
What kind of switches can I use?
• enCore can be used with any switch, provided it has a 3.5mm jack.
What programs can I use?
• enCore can be used with any MS Windows or GNU/Linux program.
How many switches do I need to use?
• You can use from one switch to eight, depending on the funcionality that you wish to obtain.
How much does enCore cost?
• enCore costs £65.
For an independent view and application of the enCore System, see the Apollo Ensemble review.
User Reports
User test reports for SETT project on assistive technology Eneso enPathia (virtual 'head mouse') and Eneso enCore (USB switch interface) supplied by Alpha-Active Ltd. March 2015
These assistive technology products were evaluated by people with a disability working on the Services for Enabling Technology (SETT) project. The project is a partnership between National Star and Beaumont specialist colleges, funded by JISC , working with developers of assistive technologies to review products, providing feedback to companies and potential users.
The test reports are provided 'as received' without editing by the manufacturer (Eneso) or the supplier and project participant (Alpha-Active Ltd).
Please visit the SETT project web site at: www.producttesting.org.uk, where videos may be seen.
National Star College and Beaumont College are Ofsted Grade 1 specialist colleges providing Further Education, supported living and services for people with disabilities and training for professionals. They support people to maximise opportunities for living, occupation and employment and have expertise with assistive technologies for IT Access, communication and independent living.
To see the full report on both enPathia and enCore, click here.


- Opens in new window - Please allow a few moments
Contact Us
Alpha-Active, authorized distributor for enPathia and enCore in the UK and Ireland:
E-mail: Enquiries@alpha-active.com
Phone (in UK): 01404 42455
Phone (outside of UK): + 44 1404 42455
Alpha-Active Ltd
2 Devonshire Court, Heathpark
Honiton, Devon, EX14 1SB, UK

For more information about Alpha-Active Ltd and their other products, please click 'Home' button above.