Alpha-Active exhibited their compact sports EEG brain monitoring system at the ESPRIT sports science & technology innovation meeting recently : ESPRIT Conference 2011.
There are other ESPRIT events scheduled through the year and membership of ESPRIT is free to academics.
June news items: Alpha-Active sports EEG conferences and exhibitions 2011
Alpha-Active will be exhibiting their compact sports EEG brain monitoring system at the following conferences, Teaming up and sharing a stand with Stephen Oliver Associates, the UK representative for the American ASL Eyetracker system.
Alpha-Active and S Oliver Associates will be presenting the latest in their product lines of compact mobile EEG brain and eye movement monitoring technology developed with sports science applications in mind.
The combination of tracking the visual focus and mental focus of a person simultaneously will open up new levels of insights into psychology of performance in a wide range of sport and for market research as to what customers focus on, psychology, etc.
The 16th Annual Congress of the European College of Sport Science to be held in Liverpool 6th - 9th July 2011: See ECSS congress for more details. The European College of Sport Science (ECSS) is an international non-profit organisation founded to promote science and research, with special attention to the interdisciplinary fields of sport science and sports medicine: See ECSS for general information on the organisation.
ECEM 2011, in Marseille, France, 21st - 25th of August This is the 16th edition of a series of European Conferences on Eye Movements. It is an international, interdisciplinary conference devoted to research on oculomotor control and active vision. It is the place where psychologists, neuropsychologists, neurophysiologists, clinicians, linguists, computer and applied scientists meet to exchange ideas about the strategies, the psychological processes and the neurobiological mechanisms and substrates that drive our eyes in the many perceptual tasks of our everyday life (reading, scene perception, visual search, driving etc.), the interactions between eye movements, perception, attention and cognition, as well as the coordination of eye, head and hand movements. See ECEM 2011 for more information.
The British Association of Sport and Exercise Sciences (BASES) Conference 2011, University of Essex, 6th - 8th September 2011: The British Association of Sport and Exercise Sciences (BASES) is the professional body for sport and exercise sciences in the UK. Sport and Exercise Science is the application of scientific principles to the promotion, maintenance and enhancement of sport and exercise related behaviours. See BASES conference for Conference information and BASES for general information about BASES.
Please come and visit our stand at any or all of these events - we look forward to meeting you there.
May news item: 2011 International UKIERI Workshop on Fusion of Brain-Computer Interface and Assistive Robotics, 7-8 July 2011, University of Ulster, Derry, UK.
The primary objective of the workshop is to bring together stakeholders in both the brain-computer interface (BCI) and assistive robotics (AR) fields in one location, to discuss cutting edge developments and to enable brainstorming of ideas to provide new directions for the effective fusion of BCI and AR systems, so as to make such systems practical for constant real-world use.
The Alpha-Active EEG software will allow flexible brain-computer applications to be developed that are compact and robust to user movement.
For more information and to submit an abstract please see UKIERI Workshop.
April 2011: Project started - University of Surrey Department of Computing
In collaboration with Alpha-Active Ltd, the University of Surrey has recruited a Research Fellow to take on the exciting opportunity of applying computational intelligence research into the real world. In this project, we propose to apply Surrey's research on data mining in Alpha-Active's product. A proof-of-concept plug-in for the Alpha-Active HeadCoach EEG product will be developed, to classify EEG signals in real-time.
The aim is to give a sports person feedback that is indicative of a figure of merit derived from the EEG data recorded during optimum performance. This may also be used to help patients in managing long term illness.
For more details about the project see Project information.
November 2010: Alpha-Active supplies pocket EEG to iZone at Silverstone
The marketing of the Alpha-Active HeadCoach pocket EEG brain wave monitor for sports performance mind coaching hit a new high with the sale to the prestigious iZone facility at the Silverstone Grand Prix circuit.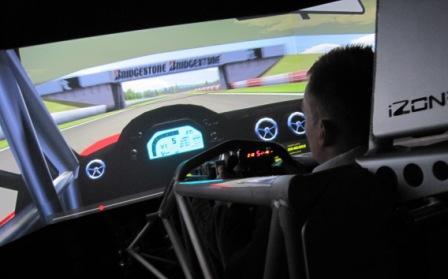 iZone is a high tech motorsport simulator system that measures driving performance for coaching: www.izoneperformance.com and http://www.izoneperformance.com/simulator.html.
Besides measuring all the usual racing car driver performance metrics, the iZone simulator measures real-time biofeedback parameters such as brain waves (Alpha-Active EEG), visual focus (ASL Eyetracker), heart rate, etc. This allows the coaches to monitor real-time human performance data and to use it as an advanced teaching tool for drivers.
The combination of tracking the visual focus (Eyetracker) and mental focus (EEG) of a sports person simultaneously should open up new levels of insights into psychology of performance in a wide range of sports and for market research, psychology, etc.
See red cross-hairs in monitor in left of image below.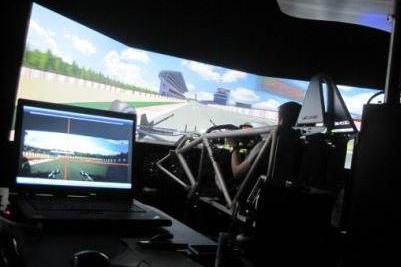 The owner of iZone, Andy Priaulx, is 3 time World Touring Car Champion.
John Pratt of Andy Priaulx Performance Management, which runs the iZone facility, is himself a former racing driver. He was Andy Priaulx's driver coach for 12 years and believes that not enough emphasis is put into driver coaching in motor sport and even less into mind coaching. He is a great believer in the improvement in performance that can be achieved by mindcoaching and sees the Alpha-Active EEG as a valuable tool in achieving his goals.
His colleague at APPM, Enzo Mucci , is also a successful motor racing driver and peak performance mind coach. It was him who first saw how our EEG biofeedback could be used in the racing simulator.
The Alpha-Active EEG brain wave monitor is being used increasingly in motor-sport and sports car studies, including to measure emotional engagement (excitement) and attention of drivers and passengers in high performance sports cars such as the Aston Martin DB7, seen here.
The EEG work is being extended into research on driver alertness / vigilance in a range of fields such as passenger vehicles, trains, planes, ships, etc.
ESPRIT Conference 8th October 2010 Loughborough University:
Alpha-Active Ltd will be exhibiting their pocket EEG, designed for active brain wave monitoring in sports science at the first Annual Conference of the ESPRIT project held at Ford College near the world class sports training facilities at Loughborough University.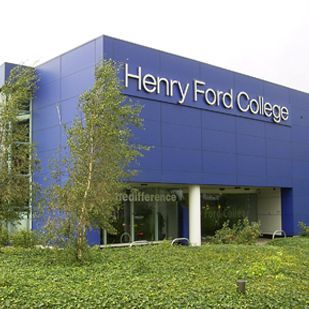 This is a unique opportunity to see the state of the art technologies in sports performance training and meet the experts and stakeholders in the field.
See www.ubimon.doc.ic.ac.uk/esprit/m859.html for details.
September 6th to 8th 2010 BASES Conference:
Alpha-Active Ltd will be exhibiting their pocket EEG designed for active brain wave monitoring in sports science at the 2010 BASES (The British Association of Sport and Exercise Sciences) Conference in Glasgow 6 - 8 September: See www.bases.org.uk/BASES-Annual-Conference & Glasgow University for more details.
Alpha-Active will be on Stand 10 along with S. Oliver Associates who will be exhibiting the ASL eye tracker range of products.
We look forward to seeing you there.
March 2010: Alpha-Active leading edge EEG brainwave monitor chosen by Carbon Media for their Sky 1 TV programmes 'How To Get What You Want'.
The series is called 'How To Get What You Want' and two of the programmes feature our EEG system being used to monitor peoples brainwaves in various situations.
The first programme on March 1st at 9pm, is called 'Winning', and it shows golf coach Dr. John Pates using his own simple techniques to improve golf performance while the player is monitored by the Alpha-Active EEG.
The second programme on March 29th at 9pm, is called 'Selling' and this shows Dr. Jack Lewis examining the psychology of selling in wine retailing. Members of the public are seen tasting various wines while their brainwaves are being monitored using the Alpha-Active EEG system. Each wine is described before they taste it and their reaction to each wine is measured.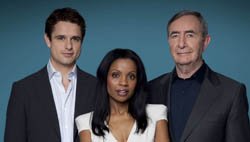 For more information on the programmes click HERE.
and for lots more information on Dr. Jack Lewis click HERE and HERE.
To see the EEG highlights from these programmes on YouTube please click Sport application and Selling application.
1st December 2009: Article by Dr Peter Grainger on Brain-Waves and Altered States of Consciousness appears in Positive Health Online
At his clinic Dr Peter Grainger has been using the Alpha-Active pocket electroencephalogram (EEG), developed in the West of England, which measures brain-waves and has a specially modified method to assess altered states of consciousness in the application of health and sports performance improvement, in conjunction with hypnosis and guided imagery. His work across a range of applications is described in a recent article in Positive Health: www.positivehealth.com/article
6th April 2009: Alpha-Active team present to SciTech Challenges re technology for the 2012 Olympic Games
The demands of staging the 2012 Olympic Games provide a focal point for demand-led collaborative partnerships between the business and academic sector. This led to Alpha-Active making an invited presentation to a showcase event at the BAFTA premises in London on 6th April 2009, partnering with Tony Steffert of specialist neurofeedback organisation, qEEG, and Dr Gordon Hunter of the sound analysis group at Kingston University. The aim is to provide neurofeedback training to people who already have (or the promise of having) the skills, fitness, tactical awareness, dedication etc. to achieve high performance in their chosen field. The role of the Kingston team relates to using the sound recorded simultaneously with the EEG as a time marker when reviewing the EEG recordings.
See Alpha-Active and Staplethorne entries at: www.scitechchallenges.com/Showcase
15th February 2009: Alpha-Active EEG on UK Channel 4 TV programme on Science and Sport - 4Sport: Destination 2012 programme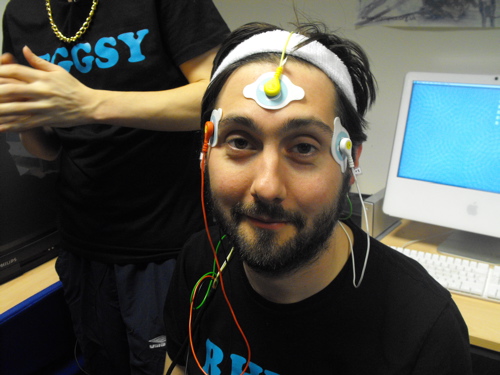 Rhys and Eggsy from the band Goldie Lookin' Chain continue their study of the science behind sport with the help of sports science experts from the University of Bath. Ryan Coombs, TeamBath performance analyst, demonstrates the Alpha-Active EEG (electroecenograph) monitoring device which detects brain wave patterns.
TV video: channel 4 programme - 4sport-destination-2012 (May take a few moments to open).
More about the EEG & TeamBath:www.teambath.com/2009
Rhys wearing the EEG headset
20th January 2009: Jeremiah Alexander of games development company Ideonic visits Alpha-Active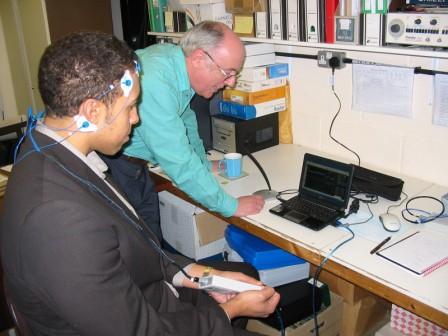 Alpha-Active are at the early stages of developing EEG-driven games whereby thought processes directly drive games outcomes. Applications could include: early detection of and help for patients with age-related neurological decline; neurofeedback diagnosis and treatment of chronic stress; other therapeutic areas such as AHDD; training measures in high stress applications where focus is required, and so on. They may also be developed just for fun applications.
Ideonic is a 'serious games' development company with whom we are forming a collaboration. We would be pleased to hear from other games and media companies interested in working with us.
Jeremiah Alexander (foreground) of Ideonic playing the early EEG game, with Keith Barfoot of Alpha-Active.
16th May 2008: Alpha-Active wins grant from Technology Strategy Board to develop feasibility of EEG driven games technology
Alpha-Active's successful proposal was to carry out a feasibility study of its CE-marked EEG device to convert the mental process of concentration into a tangible feedback signal that can be used to control a game, an instrument or a process. Applications range from 'serious games' for therapeutic and training applications through to those just for fun. The project successfully demonstrated an early concept EEG-driven game.
Alpha-Active gratefully acknowledges the importance of the support from the Creative Industries application area of the TSB: See www.innovateuk.org
1st April 2008: Alpha-Active EEG driven games technology chosen by Futurelab Ideas Incubator panel for exploring applications in education.
Alpha-Active's successful proposal was to develop a specific educational version of our EEG device in order to convert the mental process of concentration into a tangible feedback signal that can be used to control a game, an instrument or a process, as an aid to a positive learning experience. See www.futurelab.org.uk/projects
This project lead to several outcomes including a paper by Mary Ulicsak of Futurelab on 1st April 2009 entitled 'Neurofeedback: is there a potential for use in education?' A key stimulus for this paper was Alpha-Active Ltd's EEG project proposal. Read the paper HERE
Also see the EEG article by Futurelab on 1st January 2009, Brainbox: neuroscience and learning - HERE